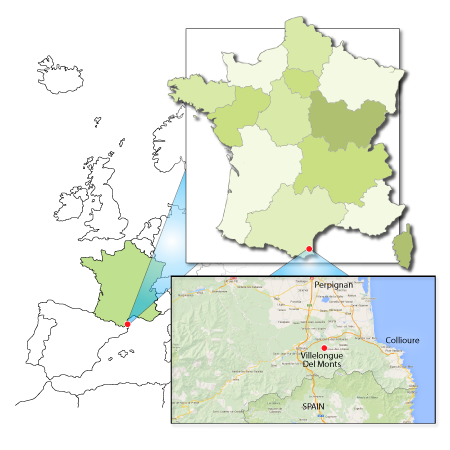 Roussillon Farmhouse & Cottages
66740, Villelongue dels Monts
Pyrenees Orientales. France
GPS: 42.522611, 2.905111
Despite our tranquil, country location, we are in fact very easy to get to.
Many of the low-cost airlines have frequent flights from airports throughout the UK and Europe directly into the 7 nearest airports :
Perpignan Airport : 30mins
Girona : 60mins
Béziers Cap d'Agde : 80mins
Carcassonne : 90mins
Montpellier  : 1h45
Barcelona : 2h 
Toulouse : 2h20
Please note that timings are taken from Via Michelin.  We would always recommend you check the timings before travelling and allow plenty of time in case of delays..